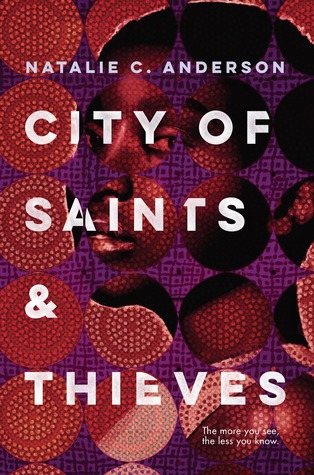 Title: City of Saints Thieves 
Author: Natalie C. Anderson
Rating: ⭐️⭐️⭐️
Synopsis: In the shadows of Sangui City, there lives a girl who doesn't exist. After fleeing the Congo as refugees, Tina and her mother arrived in Kenya looking for the chance to build a new life and home. Her mother quickly found work as a maid for a prominent family, headed by Roland Greyhill, one of the city's most respected business leaders. But Tina soon learns that the Greyhill fortune was made from a life of corruption and crime. So when her mother is found shot to death in Mr. Greyhill's personal study, she knows exactly who's behind it.
With revenge always on her mind, Tina spends the next four years surviving on the streets alone, working as a master thief for the Goondas, Sangui City's local gang. It's a job for the Goondas that finally brings Tina back to the Greyhill estate, giving her the chance for vengeance she's been waiting for. But as soon as she steps inside the lavish home, she's overtaken by the pain of old wounds and the pull of past friendships, setting into motion a dangerous cascade of events that could, at any moment, cost Tina her life. But finally uncovering the incredible truth about who killed her mother—and why—keeps her holding on in this fast-paced nail-biting thriller.
---
This story drew me in immediately. It began by stating the first rule of being a thief. Every chapter begins with a new rule. The setting, characters and world we're introduced with are intriguing, and I finished 40% of this book in one sitting, completely neglecting Physics in the process.
I didn't actually realise this book was termed a "thriller". If I had gone into this book keeping in mind it was a thriller, I feel I might have felt a bit underwhelmed. But rest assured, this book will throw shock after twist after turn at you and you'll be left gasping for breath, wondering what just happened.
It is relatively fast-paced, although sometimes I felt it dwelt on a scene or event for a bit too long and it got a bit boring, for myself, anyway – but the pace wasn't a problem on the whole, and I don't think it will be or is much of a problem for much people anyway.
I found the whole gang aspect intriguing, and I liked how Tina's personal life was woven along throughout the story and so heavily involved in this heist that had taken years of preparation (I mean obviously because it's her story, but I just want to let you know minus Tina I probably still would've given this book a 3 stars if there was another gang part to make up for it) – it made everything so much more interesting and so much more significant, as well.
The main thing I didn't like, though, was the significance of rape in this story. If I had known beforehand… probably wouldn't have read it. I didn't appreciate some scenes of the story, luckily realising what was about to happen and then skipping onwards. That knocked the story down a star…  it's a personal preference.
I don't know how you can predict the ending, because it was definitely not what I expected (at all). So if you're into fast-paced books with likeable characters and a twisting plot, and don't think you will mind some disturbing parts of the book, I would recommend you check this story out.
Speak soon!