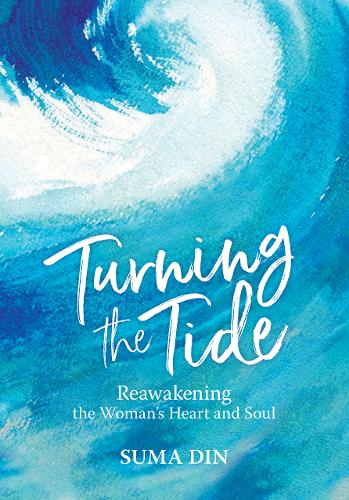 Title: Turning the Tide: Reawakening the Woman's Heart and Soul
Author: Suma Din
Genres: Islam, non-fiction
Rating: ⭐️⭐️⭐️⭐️⭐️
"A book on the journey and different stages of a woman's life, from the inception of the soul to the end of life on Earth. Words of wisdom, guidance and compassion from the Qur'an and sayings of the Prophet (peace be upon him) pave the way, and inspire the reader to reawaken their heart and soul. With contemporary thoughts, words of wisdom, guidance and inspiration." Goodreads
This is an exquisitely beautiful book. I knew after the first chapter, that this would become one of my all-time favourites, and it has. I took a month reading it, savouring every paragraph and chapter and beautiful illustration. I did not want this book to end, and I kept going back to reread parts and ponder over them, and as I was reading I kept sharing quotes that really resonated with my friends, because this book really touched me. It is books like these that make me so grateful for the privilege of reading and even being able to own a brand-new physical copy, because I enjoyed and benefited from this enormously – it really felt like a privilege to read. This is a book that I know I will continually refer back to, truly a book for life.
You were entrusted with your soul, and the covenant it made. In your care, the soul needs to be nurtured on the remembrance of God. It needs to be fed on the contemplation of His innumerable signs in the vast cosmos and within the human self. It needs to be sustained by the grace of God and by seeking His guidance and forgiveness.
I'm going to first talk about what immediately struck me, which was the writing – it is so lyrical and elegant. It flows so well, and is a pleasure to read. Everything is described and explained so brilliantly because the words are so perfectly chosen, and it is very clear that the author spent many years working on this book and that it is on its 4th edition. Sometimes with Islamic books the writing is not as good as it could be, and I really appreciate that this is not at all the case with this book, in fact it is the opposite.
There are many things that I love about this book, but the main reason is the premise. I think the author explains this best in the introduction: "every era of history in the world has presented different challenges to a woman's growth… on the face of things, opportunities are abound for women, empowering them to fulfil their ambitions and use their abilities. Nonetheless, the need to delve deeper and understand more about our identities refuses to go away. The soul of each woman is not fulfilled with material prosperity alone, or better prospects in terms of social relationships. There persists a need for inner harmony and a life of balance in which the deep yearnings of the soul can be satisfied. "Turning the Tide" is about turning away from the restrictive beliefs, habits and fads that have starved women spiritually. It is about turning towards the eternal message of the Qur'an and Prophetic wisdom, the primary sources of Islam. Where better to find the contentedness and wholeness each being seeks than from the Creator of each being… this book takes a chronological journey through the stages of a woman's life and looks at the value and inherent worth of each stage". I absolutely love it because being a Muslim is the core of my identity, and since my Islam is incorporated into my everyday life, this book is perfect because with its close focus on the Qur'an and sunnah (which I also love because that is so vital for any Islamic understanding to be achieved), it is tailored to aiding the Muslimah through different stages of her life that is hugely insightful and beneficial. I also really appreciated how this was done in a non-preachy way, making an engaging and enlightening read.
Our heart, the core of our being, is not left unguided. God, the Most Wise and the Source of Peace, has given us guidance and inspiration for keeping our hearts in the best condition… in our early years our hearts were naturally pure, not bearing grudges, spontaneous and honest. As time goes on, the tests upon the heart come from all directions, as our emotions and mind travel to new places. Our hearts will go through turmoil just as the hearts of the Prophets were tested.
The structure of the book is another thing that makes it so unique and special (it is also explained in "A Map for your Journey" at the start of the book). There are ten chapters, spanning from "The Soul: Wide Oceans", "The Heart: Seas of Change" to "The Soul's Journey On: The Shoreline". Each chapter has a brief introduction (I loved all of them, they really encapsulated the topic and was so elegantly expressed… quite a few of my highlights were from the intros!) and then has a "Myriad Voices" section which flows in a poetic style and represents different fictional voices that reflect different thoughts that a woman may have in regards to the topic of that chapter and was very refreshing to read after finishing a chapter and prepared you for the next. There are then translated parts chosen from the Qur'an and hadeeth of the Prophet (peace be upon him) that portray the Islamic perspective on the chapter – they are always well-chosen and tend to make up the bulk of the chapter and I learned a huge amount from reading them. I especially appreciated how there was always a section of duaas (supplications) afterwards that are specific in aiding us in whatever subject the chapter was on, such as in regards to seeking knowledge. Lastly, possibly my favourite section of each chapter, was the one on "Noble Women" which included an insight into the life of a righteous Muslimah, historical figures in Islamic history, that reflected the qualities covered in the chapter. The structure of each chapter ensures each chapter is powerfully conveyed, so much so that each chapter left a lasting effect on me so that I would only read one chapter in each sitting, and then go away and think about what I had read. The author also incorporates an extended metaphor of water throughout the text – each chapter is closely linked to water and this is not only makes it more of a pleasure to read but also really helps to ingrain what each chapter represents in the course of life, which is so meaningful.
Finally, the illustrations are absolutely beautiful and were the final feature that made this book into a perfect read for me.
All-in-all, it's pretty clear that I am absolutely in love with this book. I'm sorry if raving reviews aren't your thing, but I really cannot think of a single thing about this book that I dislike. I went into this book with zero expectations and no knowledge on what it was about, and so it took me completely by surprise and made it even more enjoyable to read. If you're a Muslim, or even if you're not a Muslim, I would highly recommend this for a read (there is a glossary at the end that helps to make it more accessible for those who aren't Muslim). I would say especially if you're a Muslimah, this book is perfect for you, and I sincerely hope that you enjoy it and gain from it as much as I have!
Have you heard of this book before? Have I convinced you to add it to your TBR? What are your thoughts on my review?
Speak soon!