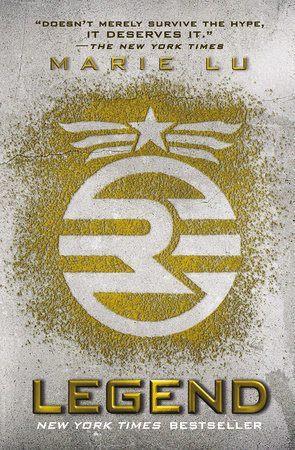 Rating: ⭐️⭐️⭐️
So, as you guys may be able to guess by now… I'm off school, which means between all the extra chores and other things, there is a time when you're left wondering what exactly you're going to do with your time.
I've been seeing this book everywhere – OverDrive, the library, in my sister's bedroom – for a really long time, and it took boredom to beat me into finally reading this.
And honestly, this book isn't bad. It really isn't. I didn't expect it to be amazing anyway, I just thought it might have been a bit more of what it actually was.
Nevertheless, this was an entertaining read: the plot was fast-paced, and we had fights and negotiations and dust bombs and tension.
I felt like I'd seen the characters a million times before in this saturated Dystopian genre, but I've convinced myself that this is what happens when I read a 2011 YA book. One thing that kind of ruined my enjoyment of it was the ages of June and Day… 15 years old. Really? I don't find that very believable. They act more like 17 year olds, in my opinion. This is also that trope about those characters who were just born special. Also, June's instant intelligence wasn't something I buy so easily, it made sense with Day because they were explained from years of living on the streets.
The world-building also felt like every other typical Dystopian. It also reminded me a lot of The Selection's terrible world-building, strangely enough. I don't think there was enough detail on the where's and why's to do with the world-building and the government and everything… it could have been more convincing.
Despite spanning 300 pages, I felt that this book wasn't enough to make up for that… if that makes sense. I've read so many other 300 page books where so much more happens. Here, I felt like there wasn't enough depth to the characters or the world-building or even the direction of the plot. Despite being fast-paced, the ending is predictable from the blurb.
Anyway, these are my thoughts on how I found it. What do you think?