Hey everyone! So I mentioned in my last WWW Wednesday post that I was going on a plane journey (it was several hours long) and I was hoping that I'd be in a reading mood so I'd plough my way through my everlasting TBR (which is always a good thing!). Well – I was in a reading mood!
I read for 5 hours and then I had a splitting headache for the remaining two and a half hours (I have to say I did really regret reading then), but I still got through 2 books…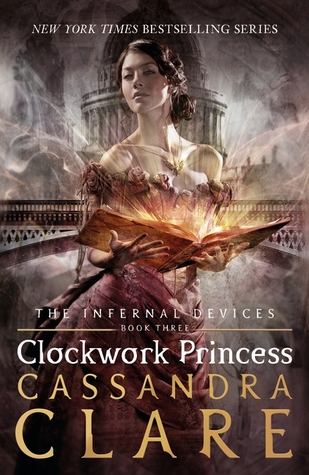 I finished the Clockwork Princess and I'm sorry to say I really didn't like how it ended. Like really a lot.
I still gave it 3 stars because Clare did manage to wrap up all the loose ends in an unpredictable way and I do like Will and Jem and Tessa – and I still laughed a couple of times throughout this read.
But there was so many descriptions that would go over a page long and just tire me out and I just didn't have the patience for that, for some reason.
Honestly, the epilogue completely ruined it for me, I am not even joking. If this book had been without the epilogue I would have topped the rating up to 4 stars. Seriously. Not okay! 
Now I know one person who will be tremendously pleased to see this – Hannah over at the way of delight has been trying to convince me to reread this book and she succeeded.
I picked it up on the plane and I laughed more than once and thoroughly enjoyed it since I finished it from beginning to end within 3 extremely pleasant hours.
It made up for the grief I had been momentarily going through that the Clockwork Princess gave me (I was initially going to give it 2 stars) but then I realised the book itself isn't actually bad. There are just certain things that really didn't sit well with me. That's all.
What books have you read on the plane? Speak soon!