Hey guys!
Today I'm taking part in Top 5 Tuesday created by Shanah from the Bionic Bookworm!
Although I'm already knee-deep in a load of other series/trilogies/duologies:
Six of Crows Duology (I'm on Crooked Kingdom – second book)
Grisha Verse trilogy (I'm on Siege and Storm – second book)
The Lunar Chronicles (I'm on Cress – third book)
The Raven Cycle (I'm on Blue, Lily, Blue – third book)
(I hope that's all of it, but I'm not sure!)
…I of course want to explore a load more! The more the merrier, right? However, I can't guarantee I will end up reading the rest of the series of these books, because I may not like the first book enough to want to read the rest.
Blood Song  (Raven's Shadow #1) by Anthony Ryan
Title: Blood Song
Author: Anthony Ryan
Series: Raven's Shadow
Genres: Young Adult, Epic Fantasy
Synopsis: "The Sixth Order wields the sword of justice and smites the enemies of the Faith and the Realm."
Vaelin Al Sorna was only a child of ten when his father left him at the iron gate of the Sixth Order. The Brothers of the Sixth Order are devoted to battle, and Vaelin will be trained and hardened to the austere, celibate, and dangerous life of a Warrior of the Faith. He has no family now save the Order.
Vaelin's father was Battle Lord to King Janus, ruler of the unified realm. Vaelin's rage at being deprived of his birthright and dropped at the doorstep of the Sixth Order like a foundling knows no bounds. He cherishes the memory of his mother, and what he will come to learn of her at the Order will confound him. His father, too, has motives that Vaelin will come to understand. But one truth overpowers all the rest: Vaelin Al Sorna is destined for a future he has yet to comprehend. A future that will alter not only the realm, but the world.
The Lies of Locke Lamora (Gentleman Bastard #1) by Scott Lynch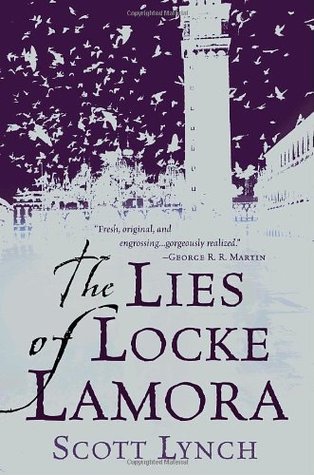 Title: The Lies of Locke Lamora
Author: Scott Lynch
Series: Gentleman Bastard
Genres: Young Adult, Fantasy
Synopsis: In this stunning debut, author Scott Lynch delivers the wonderfully thrilling tale of an audacious criminal and his band of confidence tricksters. Set in a fantastic city pulsing with the lives of decadent nobles and daring thieves, here is a story of adventure, loyalty, and survival that is one part "Robin Hood", one part Ocean's Eleven, and entirely enthralling…
An orphan's life is harsh — and often short — in the island city of Camorr, built on the ruins of a mysterious alien race. But born with a quick wit and a gift for thieving, Locke Lamora has dodged both death and slavery, only to fall into the hands of an eyeless priest known as Chains — a man who is neither blind nor a priest.
A con artist of extraordinary talent, Chains passes his skills on to his carefully selected "family" of orphans — a group known as the Gentlemen Bastards. Under his tutelage, Locke grows to lead the Bastards, delightedly pulling off one outrageous confidence game after another. Soon he is infamous as the Thorn of Camorr, and no wealthy noble is safe from his sting.
Passing themselves off as petty thieves, the brilliant Locke and his tightly knit band of light-fingered brothers have fooled even the criminal underworld's most feared ruler, Capa Barsavi. But there is someone in the shadows more powerful — and more ambitious — than Locke has yet imagined.
Known as the Gray King, he is slowly killing Capa Barsavi's most trusted men — and using Locke as a pawn in his plot to take control of Camorr's underworld. With a bloody coup under way threatening to destroy everyone and everything that holds meaning in his mercenary life, Locke vows to beat the Gray King at his own brutal game — or die trying…
Red Rising (Red Rising #1) by Pierce Brown
Title: Red Rising
Author: Pierce Brown
Series: Red Rising Saga
Genres: Young Adult, Sci-Fi
Synopsis:  "I live for the dream that my children will be born free," she says. "That they will be what they like. That they will own the land their father gave them."
"I live for you," I say sadly.
Eo kisses my cheek. "Then you must live for more."
Darrow is a Red, a member of the lowest caste in the color-coded society of the future. Like his fellow Reds, he works all day, believing that he and his people are making the surface of Mars livable for future generations.
Yet he spends his life willingly, knowing that his blood and sweat will one day result in a better world for his children.
But Darrow and his kind have been betrayed. Soon he discovers that humanity already reached the surface generations ago. Vast cities and sprawling parks spread across the planet. Darrow—and Reds like him—are nothing more than slaves to a decadent ruling class.
Inspired by a longing for justice, and driven by the memory of lost love, Darrow sacrifices everything to infiltrate the legendary Institute, a proving ground for the dominant Gold caste, where the next generation of humanity's overlords struggle for power. He will be forced to compete for his life and the very future of civilization against the best and most brutal of Society's ruling class. There, he will stop at nothing to bring down his enemies… even if it means he has to become one of them to do so.
The Queen's Poisoner (Kingfountain #1) by Jeff Wheeler
Title: The Queen's Poisoner
Author: Jeff Wheeler
Series: Kingfountain
Genres: Young Adult, Fantasy
Synopsis: King Severn Argentine's fearsome reputation precedes him: usurper of the throne, killer of rightful heirs, ruthless punisher of traitors. Attempting to depose him, the Duke of Kiskaddon gambles…and loses. Now the duke must atone by handing over his young son, Owen, as the king's hostage. And should his loyalty falter again, the boy will pay with his life.
Seeking allies and eluding Severn's spies, Owen learns to survive in the court of Kingfountain. But when new evidence of his father's betrayal threatens to seal his fate, Owen must win the vengeful king's favor by proving his worth—through extraordinary means. And only one person can aid his desperate cause: a mysterious woman, dwelling in secrecy, who truly wields power over life, death, and destiny.
The Crown Conspiracy (The Ryria Revelations #1) by Michael J. Sullivan 
Title: The Crown Conspiracy
Author: Michael J. Sullivan
Series: The Ryria Revelations
Genres: Young Adult, Fantasy
Synopsis: THEY KILLED THE KING. THEY PINNED IT ON TWO MEN. THEY CHOSE POORLY.
The Crown Conspiracy is book one of the multi-book saga: The Riyria Revelations. The series is told through six novels conceived as a single epic tale. Across the entire chronicle, mysteries build, characters evolve, and plots thicken, but each is self-contained and can be read independent of one another.
In the first episode, the reader is introduced to Royce Melborn, a skilled thief, and his mercenary partner, Hadrian Blackwater, who make a profitable living carrying out dangerous assignments for conspiring nobles until they become the unwitting scapegoats in the murder of the king. Sentenced to death, they have only one way out…and so begins this epic tale of treachery and adventure, sword fighting and magic, myth and legend.
---
As you can see, I'm really going to delve into the fantasy genre! Have you read any of these books, and what did you think of them? Would you recommend them, or do you think that I should rethink wanting to read them?
Speak to you all soon!